Oh, so you a chef, chef?? Because once you master this Lamb Chop recipe and plate them beautifully, we might as
well trade places! Take your time. This recipe is relatively straightforward and easy to make. Just don't overcook your lamb !
Why everyone loves this Honey Teriyaki Lamb Chops Recipe:
I love using special tools to help curate the perfect texture of my meats
If you love this recipe, check out my other dinner recipes on my blog!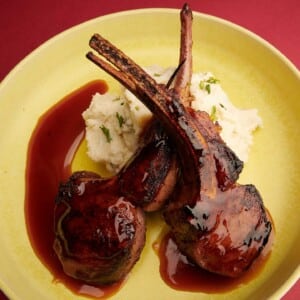 Honey Teriyaki Lamb Chops
Ingredients
4-6

lamb chops

2

tbsps

garlic

minced

2

tbsps

vegetable oil

1/2

cup

honey

1/4

cup

soy sauce

1/4

tbsps

of fresh ginger

salt and pepper to taste
For the Sauce:
1/2

cup

honey

1/4

cup

soy sauce
Instructions
Marinate lamb chops using 1⁄2 the soy sauce, ginger, garlic and honey for a minimum of 3 hours, up to overnight

In a skillet, heat oil to medium high and sear the lamb chops on both sides for 2 minutes or until lightly charred. Be careful not to burn the lamb chops; the sugar from the marinade will create. Lower your heat or remove your lamb chops from the heat source if needed. The lamb chops will finish cooking in the oven.

Finish cooking in the oven at 375 degrees for about 5 minutes or until done to your liking.

In a small skillet under medium-low heat simmer honey and soy sauce. Pour over lambchops.